A big THANKS to our teammate, Marth Sholtz from HRC (Handy Women Repair with Care)! She contacted Mike Renfro, owner of the CubeSmart Self Storage on Viera Blvd and explained Community of Hope's need for additional space to store furnishing for our units. Mike made a very generous ($5,580) in-kind donation to cover a 10'X15'X8' climate-controlled unit for one year. This will officially start Phase II of HRC. Lisa, working with Stephanie, has begun looking for furniture donations, HRC (under Lisa's guidance) will make minor repairs and we will store the items in CubeSmart until a new family arrives and needs the furniture to get started. Our current goal is to find donated slightly used furniture. If you hear of someone who has items we may be able to use, please contact Lisa. T will be seeking a grant in the near future to give us money to buy needed items when we find good bargains.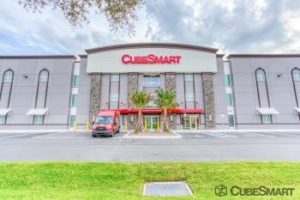 Located at 1935 Viera Blvd, Rockledge, FL 32955
Thanks again to Mike Renfro and his team at CubeSmart for helping us, help those seeking a fresh start in affordable housing. Be sure to tell your friends to support this company!