Moving Forward, One Step at a Time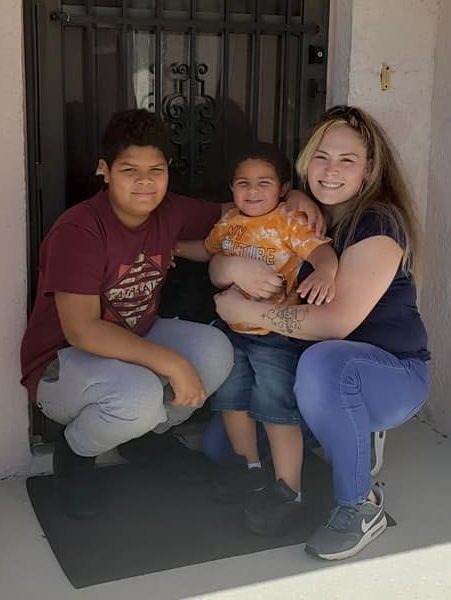 Tiffanie is no stranger to the challenges of change. Having battled and maintained her sobriety after a history of substance abuse, she'd made the decision to turn her life toward a future where she could be the best mother she could to her children, J (12 years old) and N (4 years old). Since joining the Community of Hope family, she'd found stability that had been missing for most of her life and was determined to find a way to pay it forward to others who were facing similar battles.
We connected her with another local agency, Housing for Homeless, who offered Peer Support Specialist training which will lead to a certificate that will allow Tiffanie to be an agent of change for others with similar issues. She finished the training and is now working on earning internship and volunteer hours to attain the certificate. She has not only volunteered with Community of Hope, where she was a Godsend, but also with an organization that provided mentoring and guidance to boys and young men.
Even with this progress, Tiffanie had something missing: she has been unable to care for her middle child, Levi, as he has serious medical challenges that require around the clock nursing care. Without a stable living situation and appropriate space for Levi, she was not in a position to care for him. Now that her life and employment are more stable, she is financially ready. However, her current house is does not have a dedicated room for Levi- a necessity before he could move in.
Community of Hope began helping Tiffanie search for a three bedroom house where she could have all of her boys under one roof. Despite the difficulty of finding someplace that met all of their needs, the search was steady and approached with endless amounts of determination. Tiffanie worked with Community of Hope's case manager, Nicole, for countless hours: making phone calls and sending emails inquiring about rentals.
Although many would have lost hope, they both stayed strong and positive. Properties were identified but fell through. The search continued. But hard work pays off and finally, one Saturday, everything came together. Tiffanie and Nicole made contact with a landlord in the zip code Tiffanie had been searching in to remain close to her support system. The lease was signed and Tiffanie received the keys to her new home- a place where all of her boys will be able to live under one roof. A place to call home.
From here, Tiffanie will continue to receive case management support and the love from her Community of Hope family, but she is well on her way to the future that she has worked very hard to create. We are so proud of her and can't wait to see what is in store for her and her family.