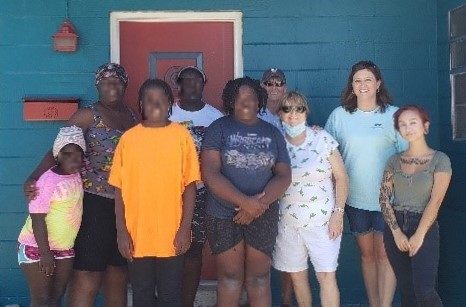 Family homelessness has become all too common as the global pandemic has withered finances and support options. For some, though, the stay-at-home orders have had an even darker effect: confining children and adults in abusive situations that school or work would otherwise have provided refuge from, and a limited number of emergency housing options to get out. One such family was referred to Community of Hope, a mother and four children who were living in their van. They'd been referred to our case manager Nicole for assistance through our Safe Overnight Stay (SOS) program by Brevard 2-1-1. Nicole reached out, and quickly realized that this was a family that both needed SOS placement and would be an ideal fit as Jen explained their situation, shame and sadness coloring her words.
Their story was unfortunately known all too well to so many families. Jen* had been in an abusive relationship, but with four children could not simply leave. The time came, though, that she knew that things could not continue the way they were and they had to escape. No matter the cost to her, she was going to protect her children. One day, while her boyfriend was at work, she packed a backpack for each child, placed it on their back along with the barest of supplies in their van, and headed out of town. With no clear idea of where she was going, all she knew was that she was that she could not go back- the only way was forward.
Not knowing what lie ahead and with very little money in her pocket, she drove and held onto her faith. She arrived in Cocoa. Shortly after doing so, she contacted 2-1-1 and with their guidance found employment as a cook/dishwasher. It paid enough to put gas in their van, provide fast food meals, and a hotel a couple times a week to take showers… but no more. It kept them afloat, but would never be enough to save sufficient funds to move them all into their own place.
As Nicole moved them into the SOS unit in North Brevard, Jen was beyond thankful. The sound of her voice changed from sadness to having a glimmer of relief. Relief that her children would have a bed to sleep on and she would be able to cook a proper meal. She called Nicole to thank her over and over for just giving them this opportunity. As soon as they arrived, her kids went straight to the backyard and began playing – the parks had been closed due to Covid-19. She said she got to have a moment where their faces lit up, and for the first time in months, they got to be just that…kids. Kids with no worries or stress. Kids that were running around laughing and playing.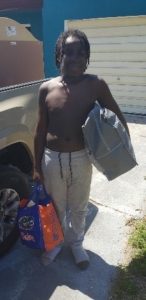 But the clock was ticking for the program, as it is designed to be a short term intervention that finds a longer term solution. They had stability but the work was just beginning. Jen and Nicole started a task list of things that needed to be done and from that created a plan of action. They worked well and worked hard, together. During discouraging moments, Nicole would refocus Jen and tell her to take a deep breath and just pray. Making contact several times a day, they checked off tasks one after another- including an assessment Nicole entered into the county-wide assistance database. Although no evictions or criminal history were on her record, Jen did not have the best credit history so finding a landlord that was willing to take a chance was one of the steepest barriers.
Nicole reached out to a landlord that she had made connections with in previous months, to see if he had anything available. As fate would have it, he had a property that was being remodeled and would be available the day that would mark Jen's exit from SOS. If that wasn't amazing enough, the property was located right in the center of all three schools that the children were currently attending- close enough to walk to. It was a four bedroom home and the location was EXACTLY right where they needed!
Jen took a ride over to view the property and she called me with excitement but didn't let herself stay excited long, as the reality of not being 100% approved and not having the funds to move in leaving her hesitant to hope. Nicole and the landlord spoke and she explained the situation more in depth and honestly, and without hesitation he agreed to help. It was hers! The last hurdle was move-in funds. Nicole went to the CHAT Team, a cooperative group of homelessness prevention group made up of members from a variety of organizations, and requested an out of cycle approval for this family for funding assistance. With all of the families in need, it was a long shot, but within a few hours, the email came that they were APPROVED and had the funds to assist them to move into their home. The lease was signed, however the sum total of their belongings were the few items that were still in the van. Nicole reached out to friends, beginning a domino effect. One person's post on a local neighborhood board and brought communities together. Crystal Lake and Wingate in Melbourne Beach, along with a few other local families gathered up bedroom furniture, bathroom necessitates- anything and everything to furnish a home. They even went the extra mile to collect money for items that the family for needs that weren't donated including gift cards for local groceries shops.
It took everyone pulling together to give this family the chance at a new life away from abuse and fear: Jen, Community of Hope, and the surrounding people who embraced them as neighbors.
*Name changed for privacy